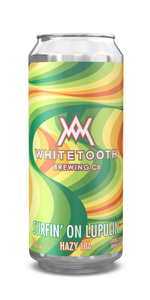 Surfin' on Lupulin is our exploratory Hazy IPA that plays with prodigious dry hopping and high-protein grains to produce haze and intensely juicy, fruity hop flavour.  We change hop combinations with each brew.  Discover what hops are in this batch on our website. 
7.5% ABV | 46 IBU | 4.2 SRM
Can Deposit included in price.